There are many types pallet inverters available from Chinese manufacturer: such as Stationary Pallet Changer, pallet changing machine, movable pallet tipper, 180 degree pallet chaging machine…
STATIONRY PALLET CHANGER
the pallet changer can be used to pushing load directly from old pallet to a new pallet without need infeeding or shifting a pallet by dispenser.
This is able reduce the pallet handling process and saves time for more efficiency pallet changing operations. More over, it is safety for operator . The Stationary type Pallet Changer can be a part of the pallet storage and dispensing automation system. It is able help to storage the unit loadsby remove the pallet on bottom. The contact part with the pallet load is a smooth platform to minimize the frition in puching.
This a rotating type pallet inveter for handling the heavy load upto 2T. The handling way is by forkman in pallet loading infeeding and out feeding. For the height upto 1800mm, normally the new pallet infeeding to the top and old pallet remove from top after 180 degree turning by forkman too.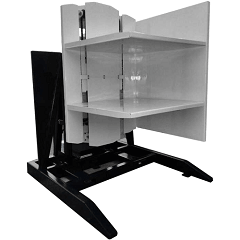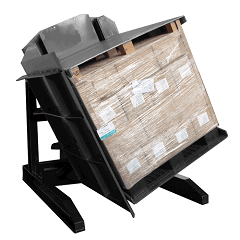 For rotaing pallet inverter, there  are one clamper and two clampers version per different height range. If the height range is small, one clamper pallet inveter is the choice. For the pallet load has widt range in height the two clampers version is the choice which is able keeping the pallet gravity point in turning.
MOVABLE PALLET CHANGER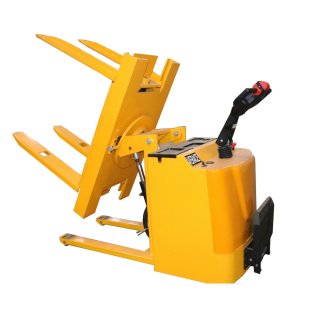 It is able moving the position per requirement to the anywhere in factory.
It is no limited in space.
Hydraulic cylinder rise the pallet 90 degree, from vertical position to horizontal position easily.
The movable pallet changing machine needs Manually rotating the pallet when it was up lifting for changing
.